WELCOME TO THE MUNICIPALITY OF CULASI, ANTIQUE
This started a permanent settlement. The community rapidly grew. The accounts state that when the Spaniards arrived, a friar riding on a boat which is rowed to the shore is pointing to the flowering trees that enveloped the bank of the river, where houses of the settlers behind. The friar, then asked his guide about the name of the place. Unable to decipher what the friar is saying, the guide answered "Culasi-si" thinking that the person was asking for the name of the flowering trees. Without a second thought, the friar called the place "Culasi" after his question was answered.
After the boat landed, the friar together with his entourage disembarked and preceded in the gathering area located to at the middle of the settlement was the townsmen convene.The friar keeps mentioning "Culasi" … READ MORE
BIDS & AWARDS ANNOUNCEMENTS
LATEST NEWS & ANNOUNCEMENTS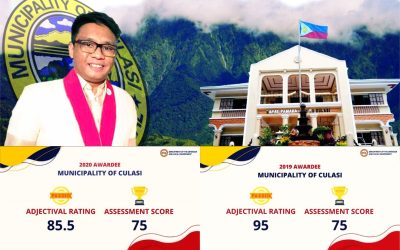 CULASI, THE ONLY MUNICIPALITY IN THE PROVINCE OF ANTIQUE BEING AN AWARDEE OF 2019 AND 2020 ADAC PERFORMANCE AUDIT AND AWARDS RESPECTIVELY. To ensure the continuous...