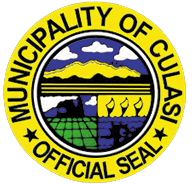 VISION
CULASI: The center of trade, commerce and tourism in Northern Antique where united, empowered, law abiding and healthy citizens are living in a safe, biodiverse and resilient environment supported by adequate infrastructure within a progressive community under a dynamic and transparent governance.
MISSION
To enable the citizens/sectors to undertake the sustainable development programs and
initiatives.
GOALS
An accessible and well developed municipality that provides high quality services and
encourages community participation through strong and transparent governance.
ORGANIZATIONAL CHART
MUNICIPAL AGRICULTURE OFFICE
FUNCTIONAL STATEMENTS
To provide extension and on-site research services and facilities related to agriculture and fishery activities, which include:
Dispersal of livelihood and poultry, fingerlings and other seedling materials for agriculture;
Palay, corn and vegetable farms, medicinal plant gardens, and fruit tree and other kinds of seedling nurseries;
Demonstration farms;
Inter-barangay irrigation system;
Water and soil resource utilization and conservation projects; and
Enforcement of fishery laws in municipal waters including the conservation of mangroves and sanctuaries
OBJECTIVES
To ensure food security and maintain surplus level in rice, sufficiency suffering in feed grains to support the livestock industry and sufficiency in freshwater and marine fish products, and development of non-traditional high value crops.
To intensify the production and improve quality of crops and fishery products
To enhance the formulation of farmers' and fisherfolks' organizations and cooperatives to have better access to resources and marketing.
To enhance the development and growth of small and medium village enterprises through provision of improved rural infrastructure, postharvest processing facilities and appropriate technology.
To deliver other agricultural related activities in the institutionalization of peasant organizations to lead and participate in agricultural development.