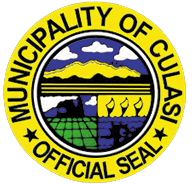 VISION
Culasi as the center of trade, commerce and tourism in Northern Antique supported by
adequate infrastructure with a united, empowered, and law abiding citizens living in a
safe, biodiversity-friendly and wholesome environment within self-sufficient, self-reliant,
progressive and empowered communities under a strong and dynamic political
leadership and transparent governance.
MISSION
To enable the citizens/sectors to undertake the sustainable development programs and
initiatives.
GOALS
An accessible and well developed municipality that provides high quality services and
encourages community participation through strong and transparent governance.