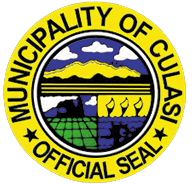 VISION
Culasi as the center of trade, commerce and tourism in Northern Antique supported by
adequate infrastructure with a united, empowered, and law abiding citizens living in a
safe, biodiversity-friendly and wholesome environment within self-sufficient, self-reliant,
progressive and empowered communities under a strong and dynamic political
leadership and transparent governance.
MISSION
To enable the citizens/sectors to undertake the sustainable development programs and
initiatives.
GOALS
An accessible and well developed municipality that provides high quality services and
encourages community participation through strong and transparent governance.
ORGANIZATIONAL CHART
MUNICIPAL HUMAN RESOURCE MANAGEMENT OFFICE
FUNCTIONAL STATEMENTS
Operationalize personnel mechanism or recruitment, selection and promotion programs;
Formulate relevant policies and programs on Personnel action and benefits;
Computerize personnel records and data bank on personnel cases/reports.
Identify training needs and to formulate Career Development programs for the municipal employee;
Effectively implement management policies and guidelines.
CITIZEN'S CHARTER
• BUSINESS PERMIT AND LICENSING SYSTEM
• APPLICATION FOR BUSINESS RETIREMENT (CLOSURE)
• APPLICATION FOR SPECIAL PERMITS
PERFORMANCE PLEDGE
We, The Officials and Employees of the Local Government Unit of Culasi, Antique pledge and commit to deliver quality public services as promised in this Citizen's Charter, specifically, we will:
BE PROMPT AND TIMELY, DISPLAY PROCEDURES, FEES, AND CHARGES PROVIDE ADEQUATE AND CORRECT INFORMATION.
BE CONSISTENT IN APPLYING THE RULES. PROVIDE FEEDBACK MECHANISM. BE POLITE AND COURTEOUS.
DEMONSTRATE SENSITIVITY AND APPROPRIATE BEHAVIOR AND PROFESSIONALISM. RESPOND TO COMPLAINTS BE AVAILABLE DURING OFFICE HOURS, WEAR PROPER UNIFORM, AND IDENTIFICATION CARD. PROVIDE A COMFORTABLE WAITING AREA.
TREAT EVERYONE EQUALLY.
FEEDBACK MECHANISMS
Text LGU CUSTOMER SERVICE 277-8126
REGARDING ANY OBSERVED IRREGULARITIES OR SLOW RENDITION OF FRONTLINE SERVICES/ANY OBSERVED IRREGULARITIES DURING THE ANNOUNCED/SCHEDULED PEOPLE'S HOUR.
Matters are immediately referred to concerned offices.
SUGGESTION/COMPLAINTS BOX
Clients are encouraged to drop accomplish standard form in boxes regarding any observed irregularities or slow rendition of frontline service.
PUBLIC ASSISTANCE AND COMPLAINTS DESK
Clients are encouraged to go to the desk of the office regarding any observed irregularities or slow rendition of frontline services.
REDRESS MECHANISMS
An apology from the organization or the erring personnel
Assurance that the mistake will not happen again.
An explanation
Free re-delivery of service