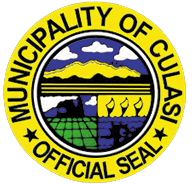 VISION
Culasi as the center of trade, commerce and tourism in Northern Antique supported by
adequate infrastructure with a united, empowered, and law abiding citizens living in a
safe, biodiversity-friendly and wholesome environment within self-sufficient, self-reliant,
progressive and empowered communities under a strong and dynamic political
leadership and transparent governance.
MISSION
To enable the citizens/sectors to undertake the sustainable development programs and
initiatives.
GOALS
An accessible and well developed municipality that provides high quality services and
encourages community participation through strong and transparent governance.
ORGANIZATIONAL CHART
Business Permits and Licensing Office
FUNCTIONAL STATEMENTS
ISSUANCE OF BUSINESS PERMITS AND                           LICENCES
About the service
Welcoming and assisting investors who are putting up business in the municipality in simplifies and rationalized business application systems in terms of documentary requirements, procedures, signatories, processing time and processing costs.
Who can avail the service
Any person,  natural or juridical being, who wishes to engage in any trade or commercial activity within the Municipality of Culasi as a means of livelihood or a view to profit.
Requirements
Clearance where business is located
Residence certificate (Cedula)
DTI (sole Proprietorship)/SEC (Corporation)
Previous Receipt (if renewal)
Zoning Clearance
Sanitary Permit
Fire Inspection Certificate
Fees
Based on rates provided in the Tax Codes
Availability of the service
Monday to Friday
8:00 am to 5:00 pm
NO NOON BREAK